We often hear that "design is an overloaded word." This must be one of the biggest understatements of all time! Often when I'm communicating with others and the word design is dropped, we need to ask ourselves: are we talking about visual design? User experience? Markup? Tangible design? Tactical design? Strategic design? Or simply aesthetics?
Given all of the confusion, as I was skimming the Table of Contents of Bettina von Stamm's Managing Innovation, Design, and Creativity, the appendix titled Categories of Design immediately jumped out to me. I thought, "ah, perhaps this will help build my understanding of the word design."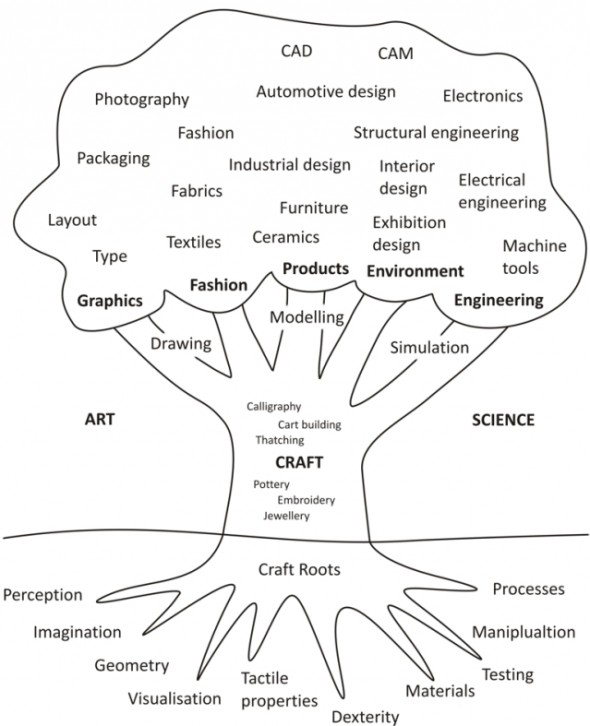 Walker's design family tree1 courtesy Plymouth University
von Stamm gives a short description of several fields of design, including:
Town Planning & Urban Design
Architecture & Interior Design
Garden & Landscape Design
Exhibition Design
Product Design
Packaging Design
Graphic Design
Corporate Identity
Brand
IT & Multimedia Design
Textile & Fashion Design
Furniture Design
I took notes on each field; below are some of von Stamm's comments and insights.
Architecture and Interior Design
This field is most closely associated with 'design as art.' It is becoming more and more influential in shaping a company's image, especially with respect to internal culture. As teams and people become more distributed, carrying the culture across groups is dependent upon the design of the environment.
I found this particular comment interesting, given Atomic's build up of our new Detroit office. I wonder how we can exploit interior design to bring our Grand Rapids office culture to the Detroit office?
Garden and Landscape Design
This is not an obvious form of design; we normally encounter it as a subset of architectural design. Planning and execution are often done by the same person. Teams are small, and other types of designers are rarely involved in this type of design.
Product Design
Product design is the most likely category of design to come to mind when you hear design. Product design "may be undertaken engineers, marketers, managers, technical staff, the manager — just about everyone."
This type of design is most likely to use internal resources instead of outside consulting. I'm guessing this is because a new product requires the expertise of domain experts at some point, and also because companies are afraid to outsource their product design and lose a competitive advantage. This insight is also interesting to me, as it will persist as a barrier to Atomic finding good design projects (we're an external resource).
Packaging Design
Packaging design is important for fast-moving consumer goods, especially food. Packaging relays important information about use and preparation of the food. Packaging can be a source of great innovations, like the aerosol can. Many companies rely on outside consultants instead of internal resources.
Textile and Fashion Design
Brand is king in this area of design — people are paying for association with names. Modern technology facilitates customization, which allows us to create unique solutions for individuals. I found this as a funny example of how things cycle over time: originally, our clothes were fashioned by a craftsman for an individual. Then the industrial revolution introduced mass production, which got more clothes into the hands of more people at cheaper prices. Now we're swinging back the other way and producing for the individual again.
Furniture Design
This type of design tends to happen in dedicated companies; not many companies try to generalize into this field. Furniture design is taking on some aspects of fashion design – especially with respect to building customized products that are associated with the brand. This section also jumped out at me, since Atomic happens to live near two of the biggest furniture design companies: Herman Miller and Steelcase.
1 I liked Shawn Crowley's comment when he saw the design family tree: "isn't it interesting how product design [where Atomic lives] sits in the middle?"